Chief Information Security Officers have more data on cyber threats and vulnerabilities than ever before. However, the majority of them still struggle to explain risk to their C-suite and boardroom counterparts in language-centered on business impact and financial risk. One of the most critical challenges facing CISOs today is this inability to understand the core mission of cybersecurity at a business level and to communicate it clearly to their stakeholders.
Despite a myriad of technological advances and the adoption of seemingly countless security products — CISOs have gained little in terms of a competitive advantage over their adversaries.
According to a recent World Economic Forum (WEF) future series report, Cybersecurity, emerging technology, and systemic risk, "the approach to cybersecurity needs to be overhauled before the industry finds itself in any fit state to tackle the threat."
Overhauling and future-proofing cybersecurity will require a new strategic technological approach to addressing five global cybersecurity challenges:
The inability to assess, communicate and manage the financial impact of cyber events — and thus the business risk to the organization
The increasing sophistication of cyberattacks and cyber adversaries
Widening cybersecurity skills gap
Lack of intelligence and operational information sharing
Underinvestment and lack of business buy-in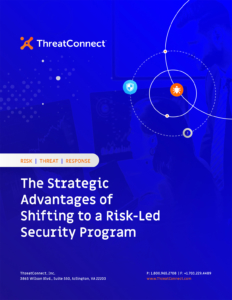 In order to shift focus to the shared objectives of the organization, CISOs and other senior security leaders need to view cyber risk as a business issue, not solely a technical issue. The main focus of a CISOs job is risk mitigation and protecting the business from harm. That's where our risk, threat, response paradigm comes into play. It is a truly revolutionary risk-led approach that is improving security outcomes by marrying cyber risk quantification (CRQ), threat intelligence platform (TIP) capabilities, and security orchestration, automation, and response (SOAR).
Our new Risk – Threat – Response Whitepaper covers the following:
Risk Quantification – What it is and why it's needed
Putting risk quantification into practice
Informing your understanding of risk by providing real-world context
Closing the gap between risk and response
The Risk – Threat – Response paradigm
To learn more about how you can leverage the Risk, Threat, Response paradigm in your organization – download the white paper here!