Risk Quantifier (RQ)
ThreatConnect Risk Quantifier (RQ) allows enterprises to effectively quantify cyber risk in financial terms. RQ is the industry's only platform for automated, data driven, and machine-learning powered cyber risk quantification.
Combining large data sets of real-world loss data with proprietary machine learning models, ThreatConnect RQ automates production of actionable risk data. With ThreatConnect RQ, cyber defense leaders prioritize investments based on true financial risk and communicate security strategies effectively with their executive teams and boards of directors.
ThreatConnect has been named a Leader in The Forrester Wave™: Cyber Risk Quantification (CRQ) Q3 2023 report. According to the Forrester report, "ThreatConnect sets the standard for a threat-driven approach to CRQ."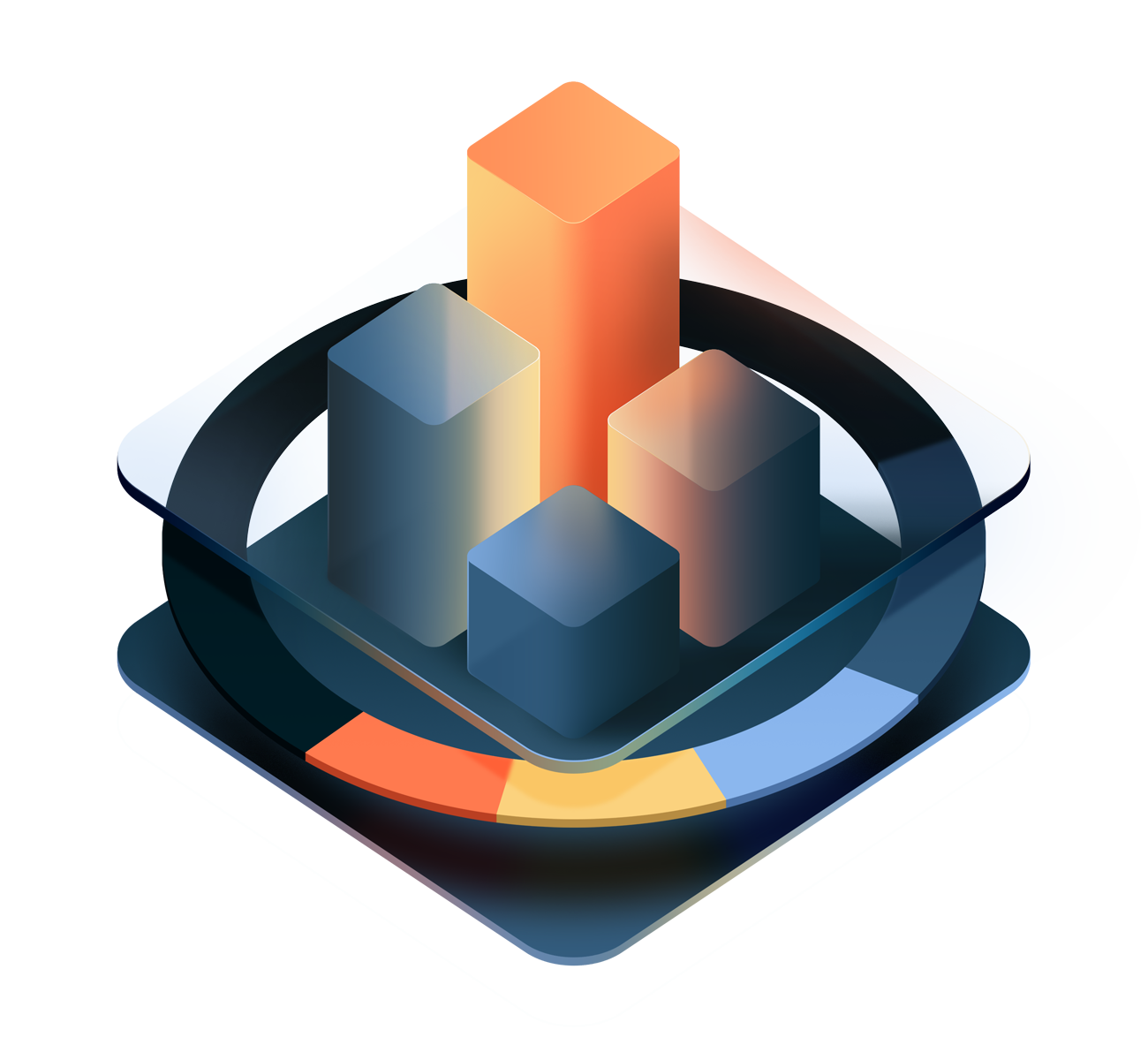 From a guessing game to a data-driven model
From a guessing gameto a data-driven model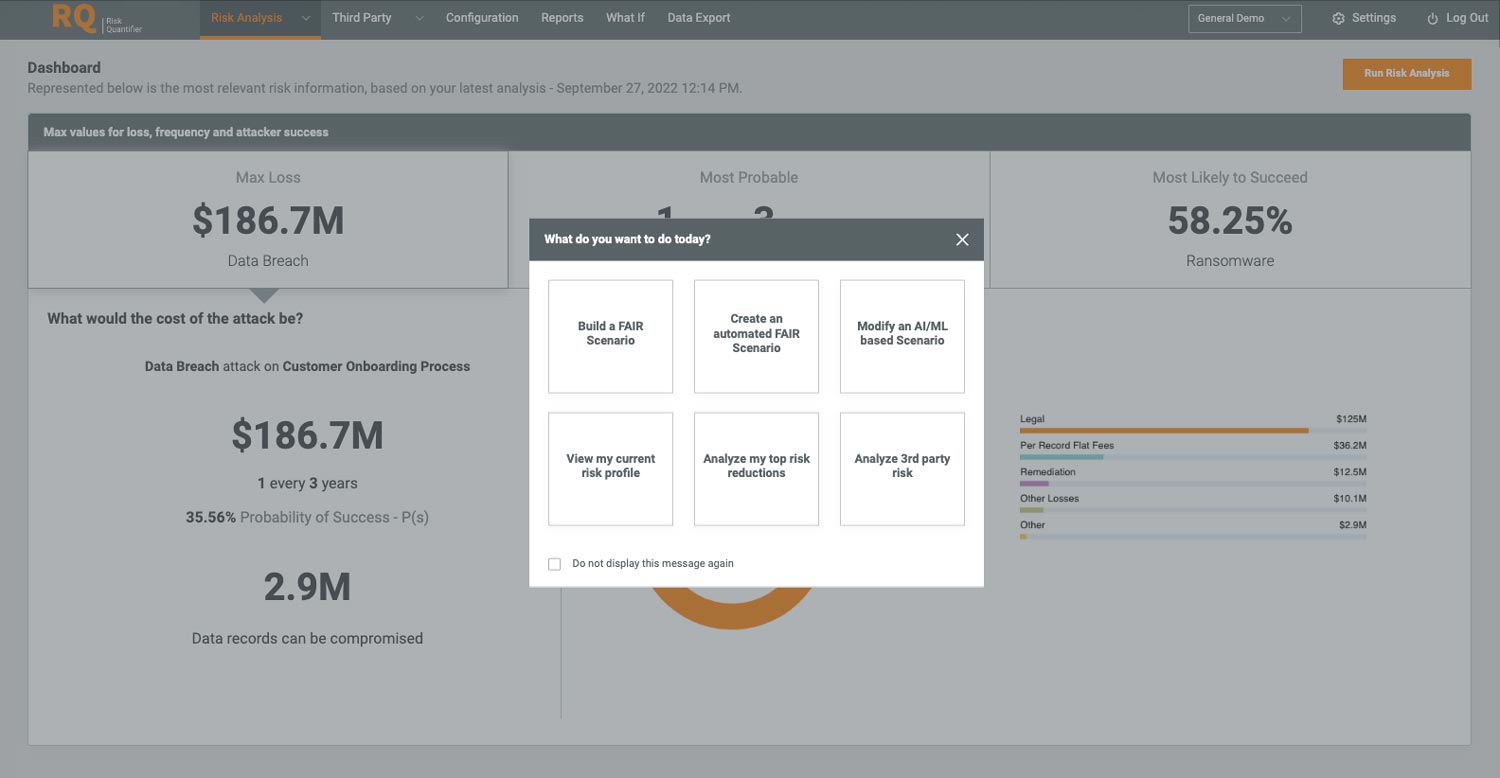 Stop trying to guess the impact of cyber risks and start measuring it with concrete data. ThreatConnect automates the generation of financial cyber risk reporting specifically tailored to your business, cybersecurity initiatives, and controls. RQ leverages your inputs and multiple data sources, applies the data to the risk model, and provides you with objective, automated outputs.
From an isolated cost center to alignment with company growth
From an isolated cost centerto alignment with company growth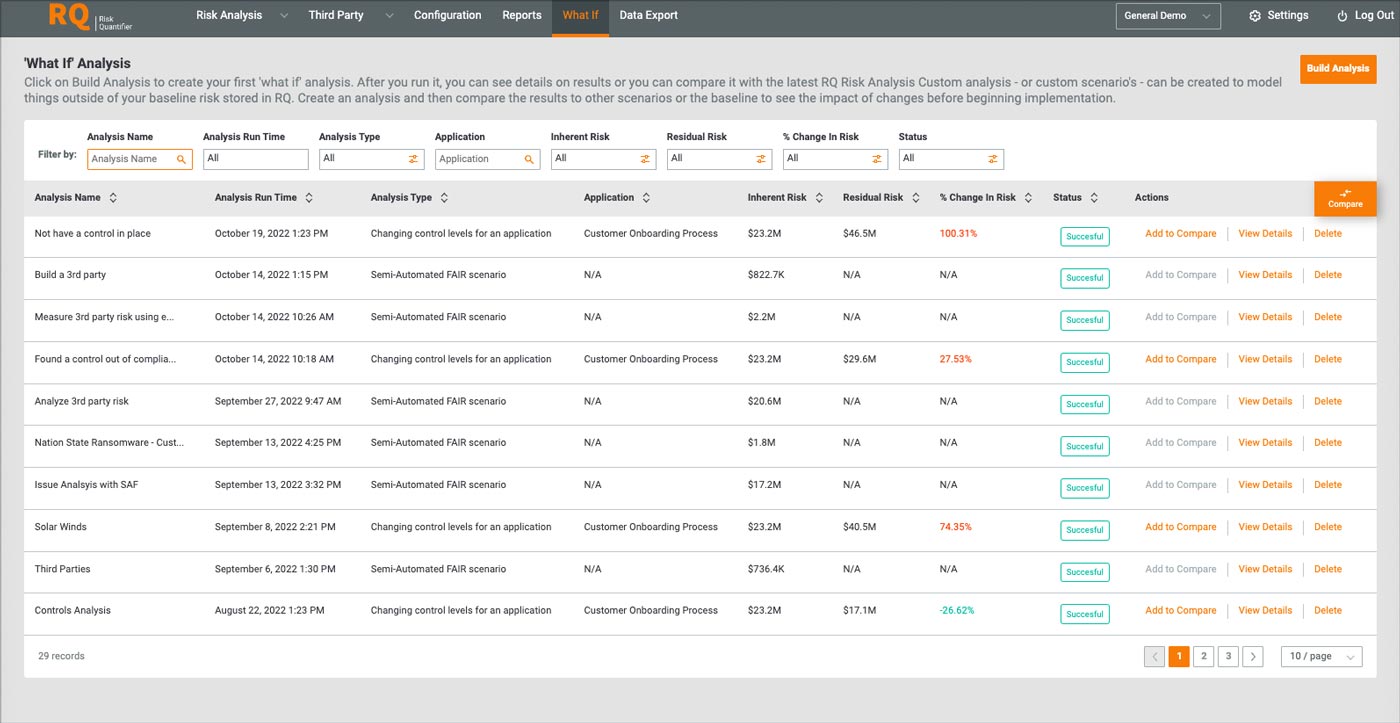 With RQ, your organization's chief information security officer (CISO) can engage with business stakeholders and boards of directors about security and risk reduction to align company growth and risk mitigation objectives using financially quantified cyber risk and ROI data.
From wasting money to prioritization based on financial risk
From wasting moneyto prioritization based on financial risk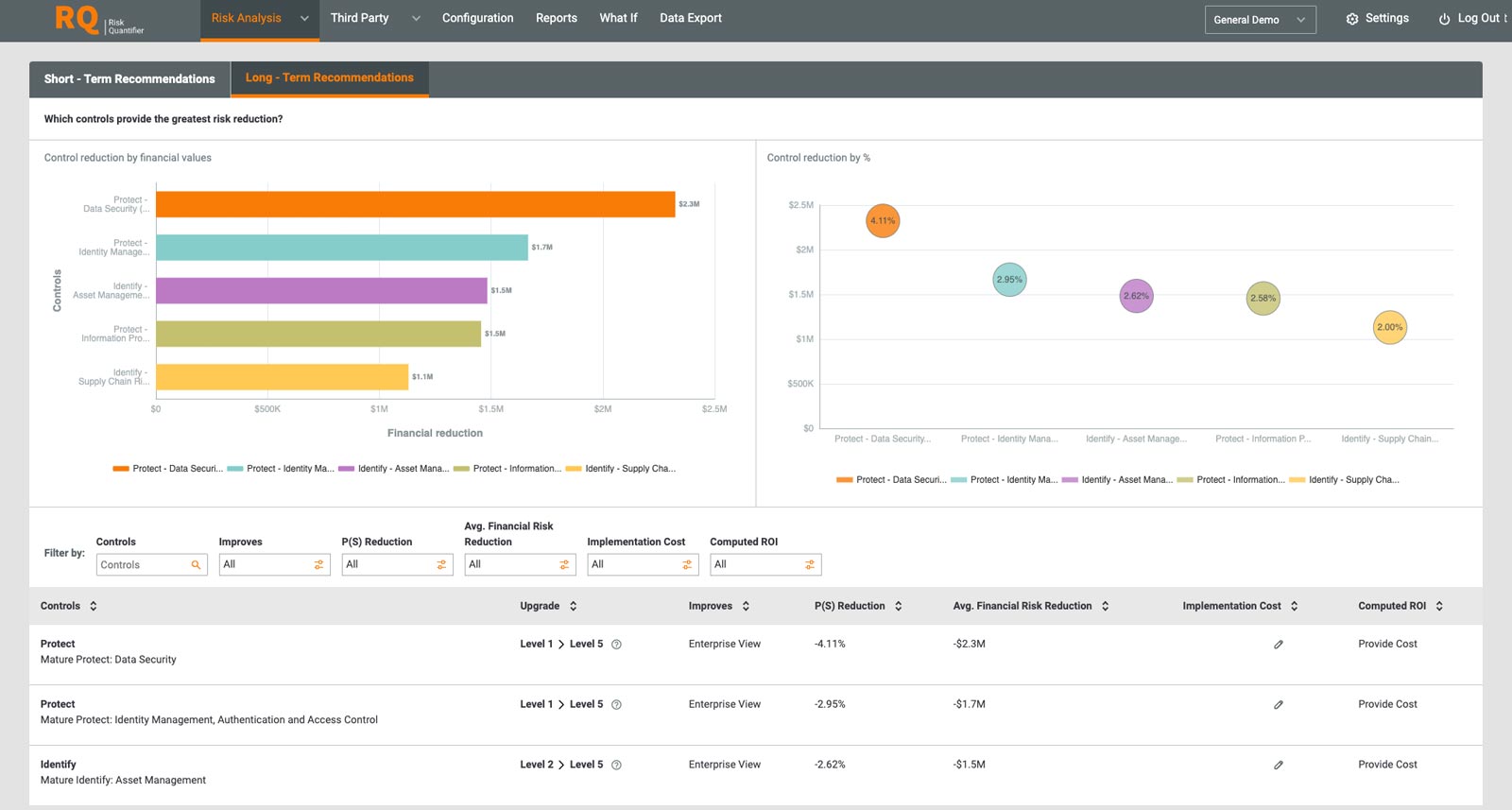 You need to know which risks are the most critical — otherwise, you'll spend time and money trying to focus on everything. ThreatConnect RQ prioritizes cyber risks and CVEs by financial impact and loss exposure they represent to the business. The Platform lets you communicate cyber risks in monetary terms so your business can make better decisions to reduce risk.
Resources on Evaluating Cyber Risk Quantifier
Explore Key Platform Features
Automate FAIR
Take the next step forward with Factor Analysis of Information Risk (FAIR) through automation and integration capabilities that help you calculate loss and likelihood at scale. RQ integrates with various tools, including, GRC, vulnerability scanners and CMDBs, allowing you to scale your cyber-risk quantification efforts.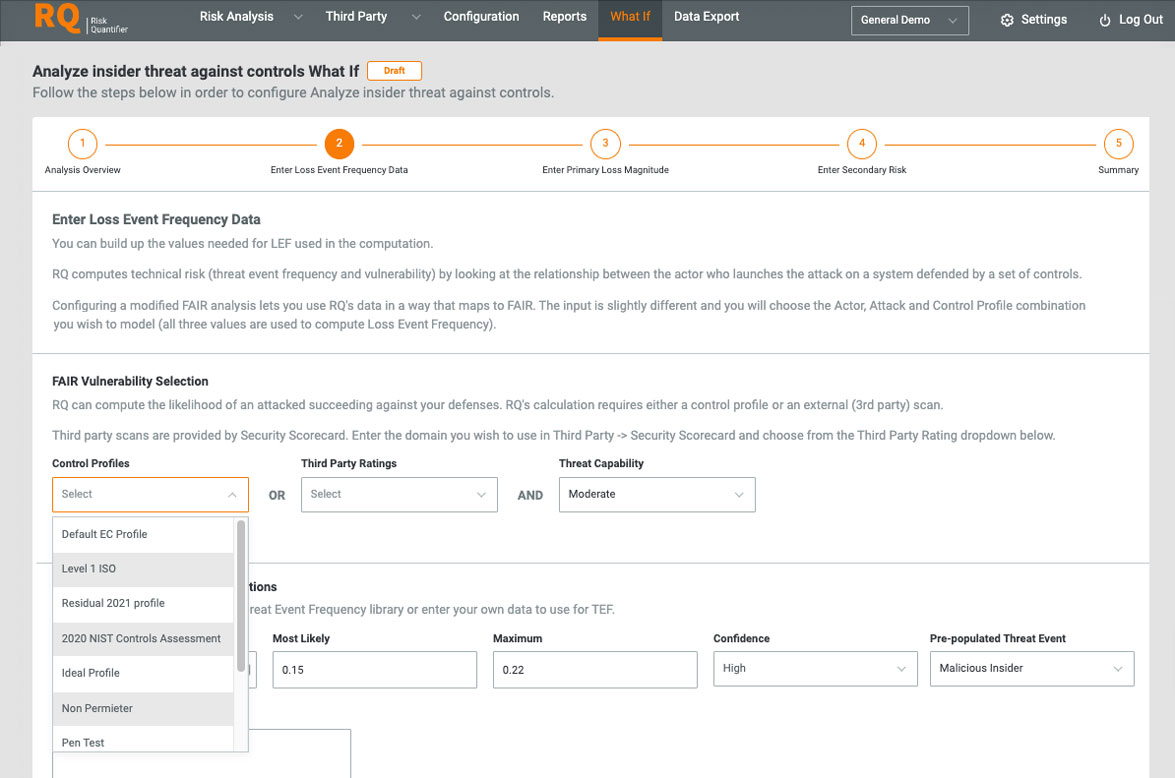 Recommendations Based on Industry Standards
Use RQ to take advantage of multiple frameworks that security teams use to measure their efforts against the industry standard. RQ natively supports security frameworks like NIST CSF, ISO 27001, CIS Top 20, and others.

Perform 'What If' Analysis
RQ's sandbox environment lets you quickly model and show the impact of budget changes or new business initiatives on your security controls and risk. This gives you the critical information you need before you make a decision.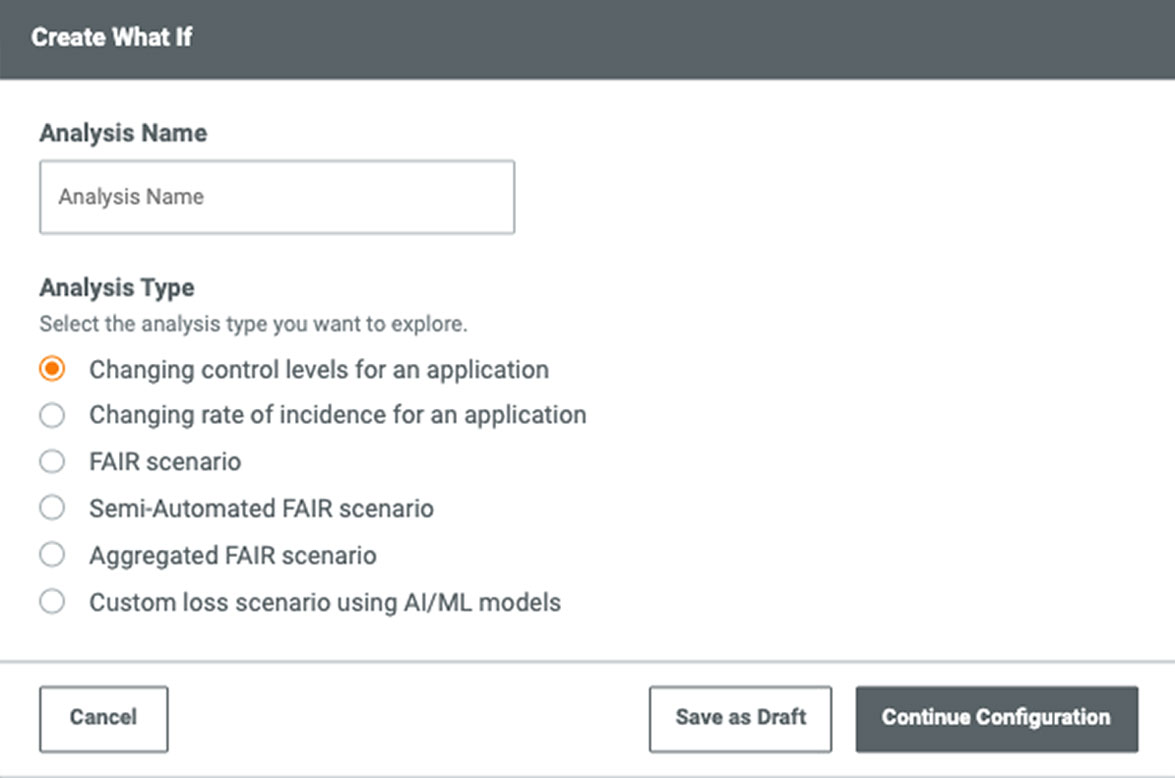 RQ can help us determine where and how quickly we invest in for years 3, 4, 5, and beyond in the program. It shows which activities and controls have the biggest impact and reduction of risk and how to prioritize them based on ROI.
Director of Cybersecurity
Global Fortune 100 Healthcare Organization
Evolve to risk-led security.