Reporting with ThreatConnect
Communicate the value of TI Ops and save time with an easy-to-use reporting engine. Disseminate the most relevant threats and intel to key stakeholders natively in the ThreatConnect Platform to make timely decisions and maximize the value of threat intelligence to your organization.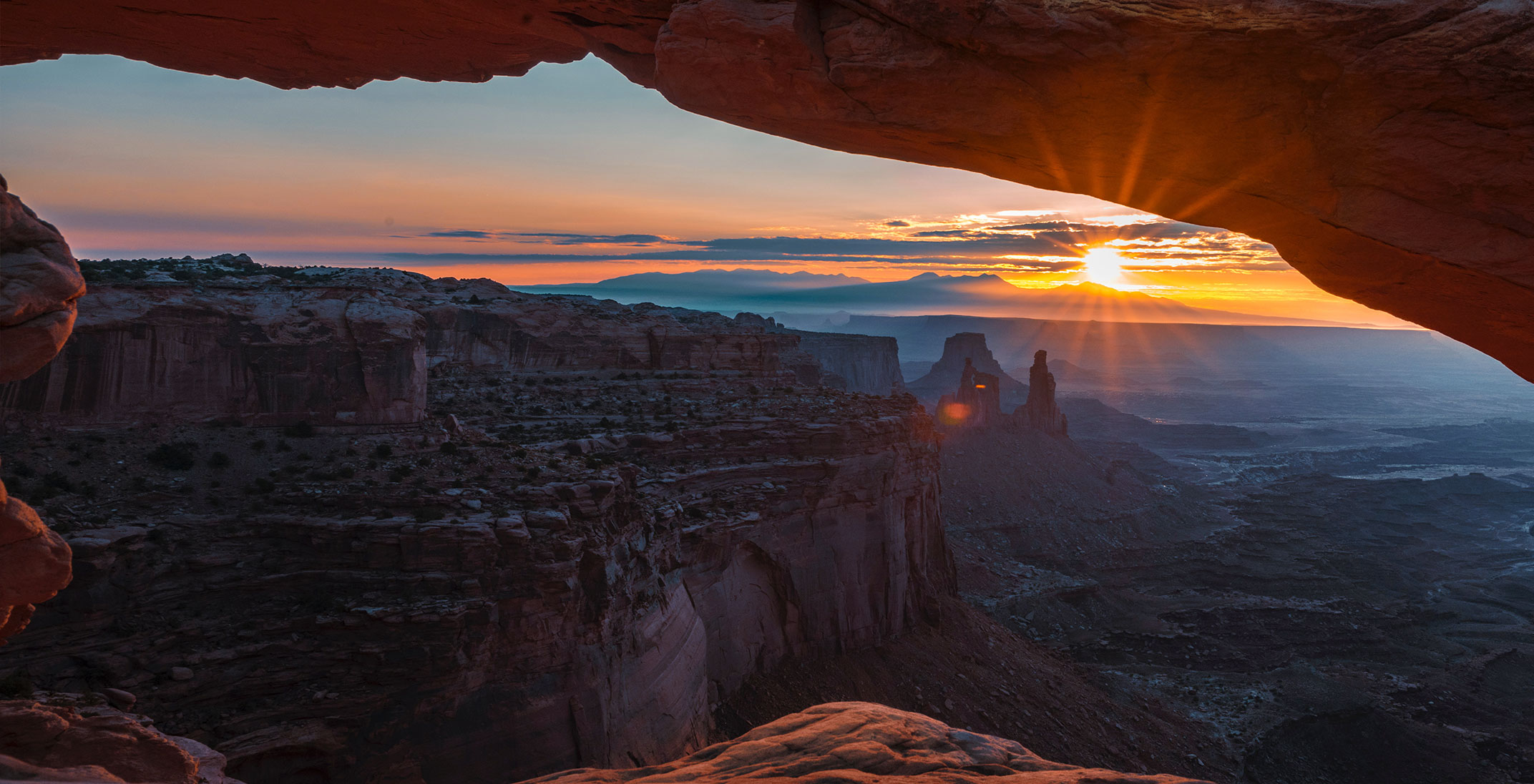 From managing threat intelligence to evangelizing TI Ops
Showcase the value of TI Ops and enable leadership from the CISO down to have the necessary information and insights to make strategic, tactical, and operational decisions.
From spreadsheets and Word documents to native Reporting
Save time with easy-to-produce reports directly in the Platform, removing the need to copy and paste data from ThreatConnect into another document, spreadsheet, or word editor.
From lack of visibility to easy dissemination of intelligence
Easily bridge intelligence production and pertinent stakeholders by effortlessly sharing the most relevant threats and intel.
Key Capabilities
Customize
Create your own headers and footers to match your or your customers' branding. Adjust the data and layout so your stakeholders get only the most relevant information they need to take action.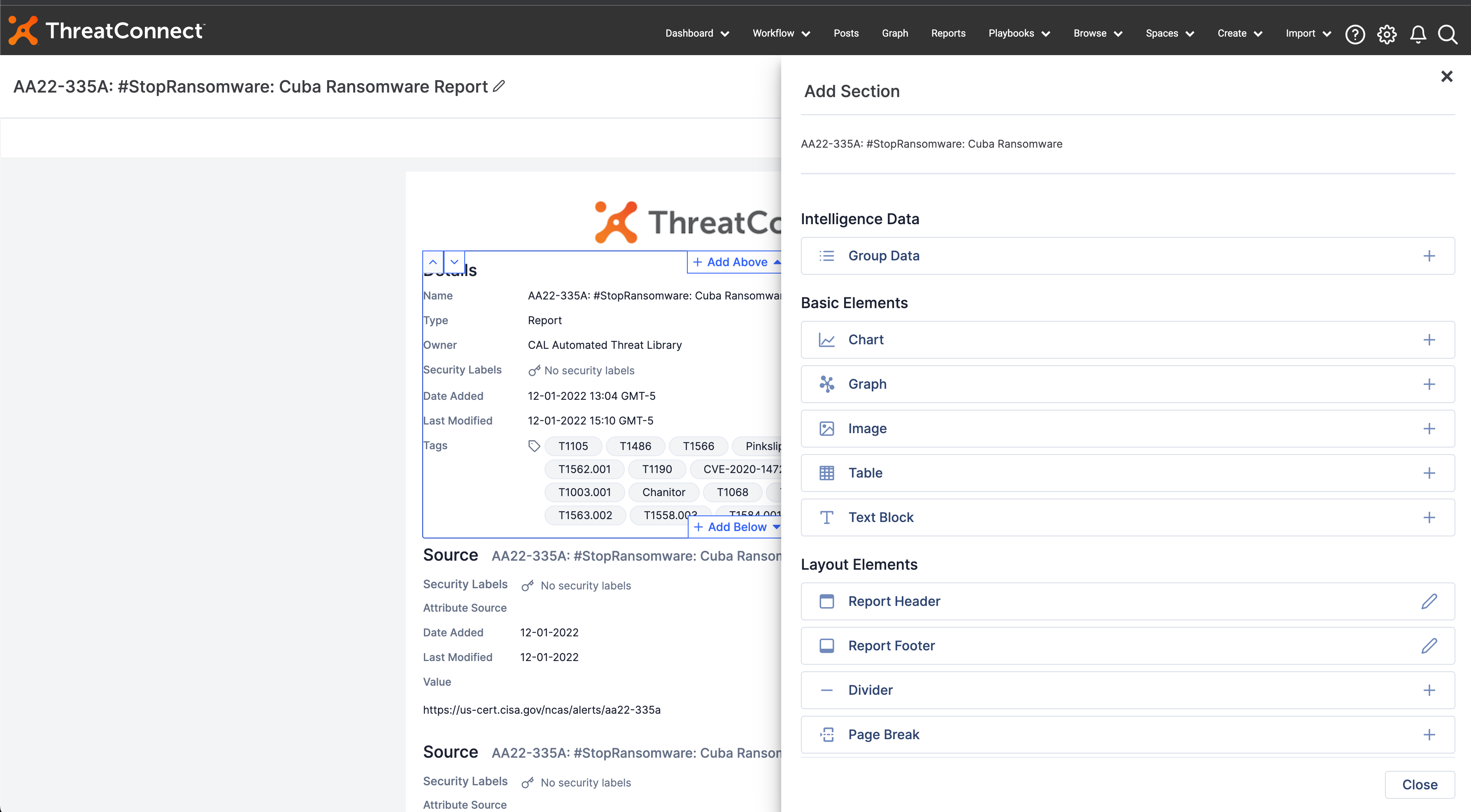 Contextualize
Add out-of-the-box charts and tables, or build your own using our proprietary ThreatConnect Query Language (TQL). Provide valuable context in your reports with images, charts, as well as data from our Threat Graph.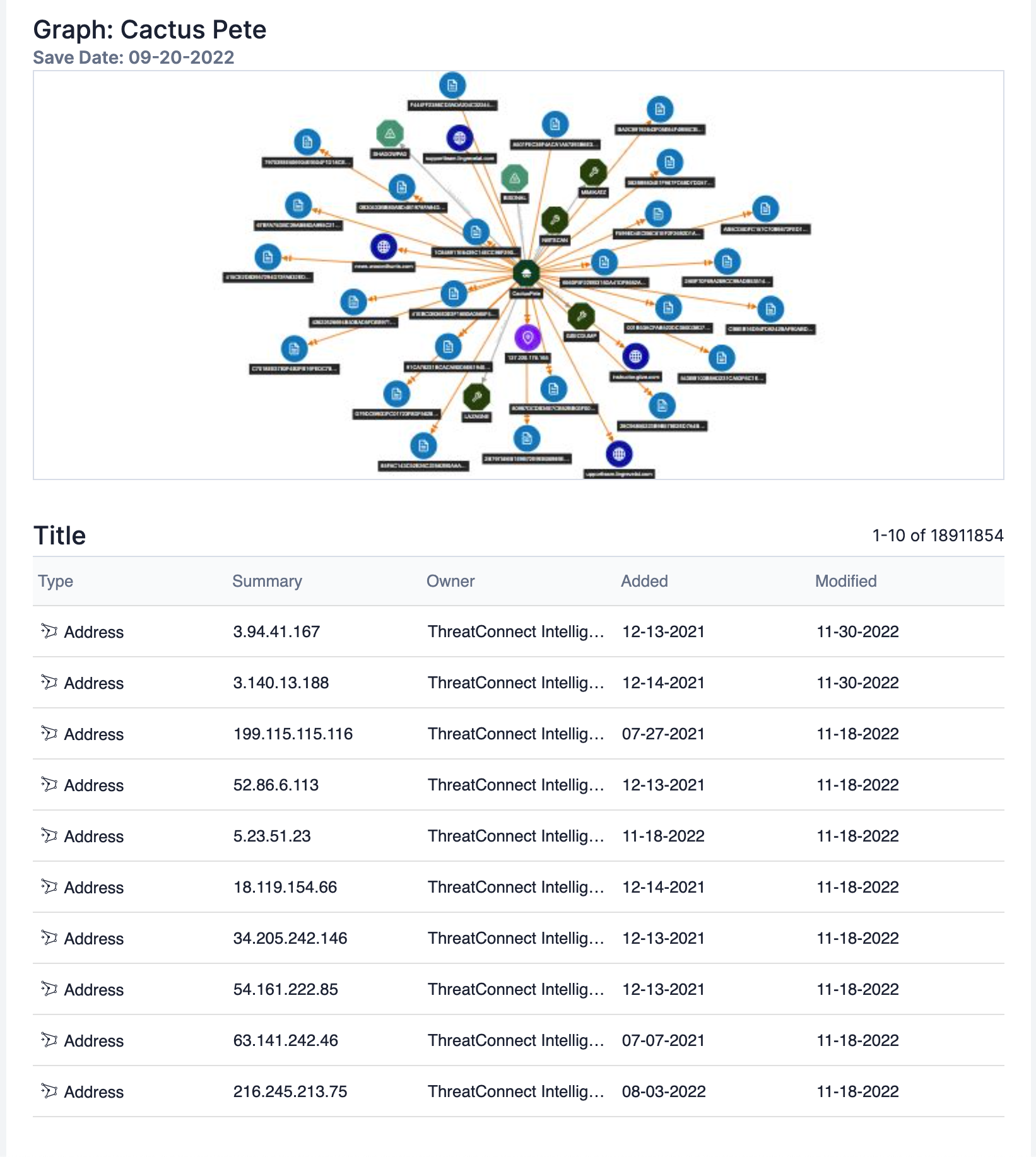 Export
Effortlessly export reports in PDF or HTML format or save them as a report object and send out the ThreatConnect link for dissemination.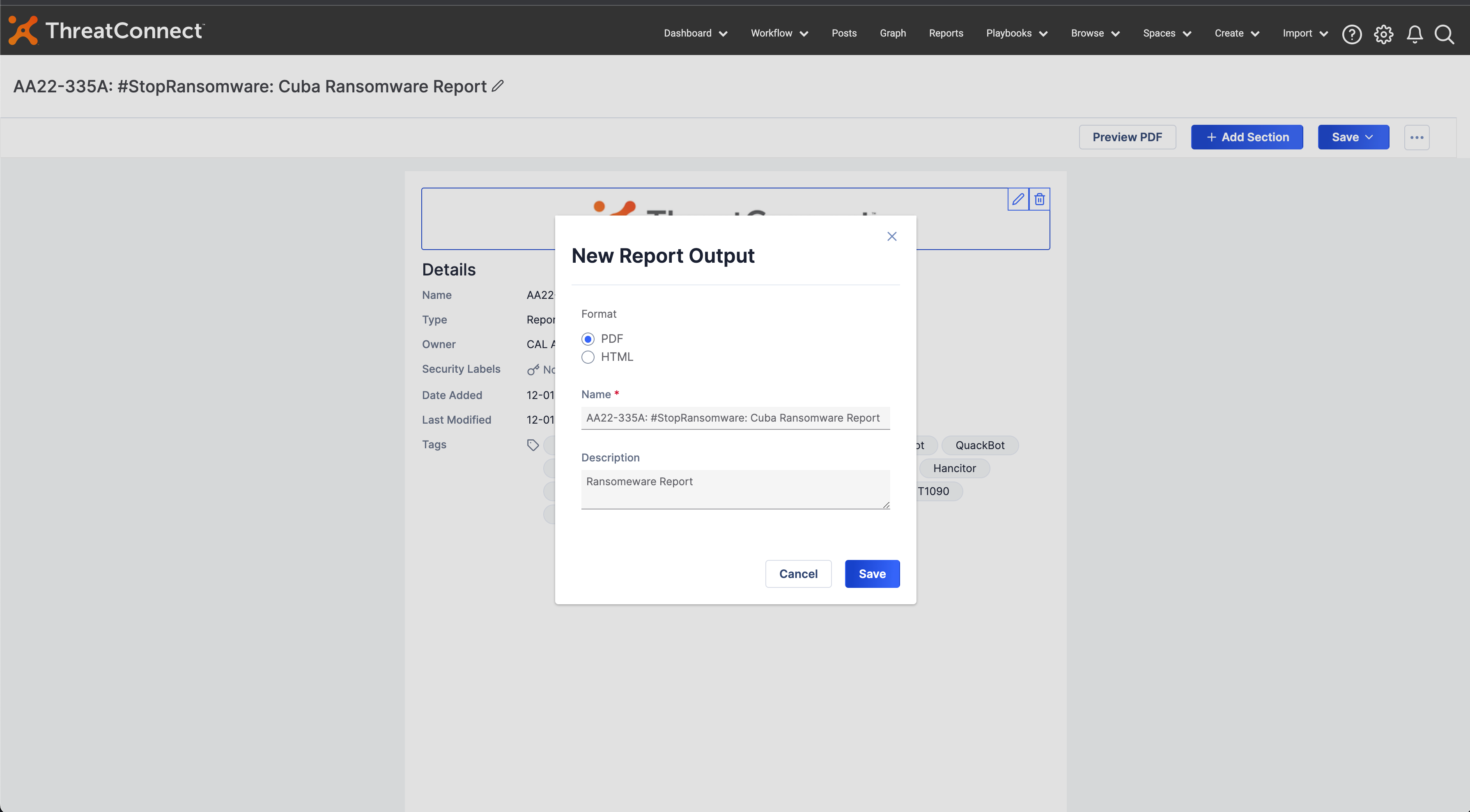 Save and View
Save a report for future use with a centralized view of each report in the Platform. Automatically get the most up-to-date data when editing a saved report.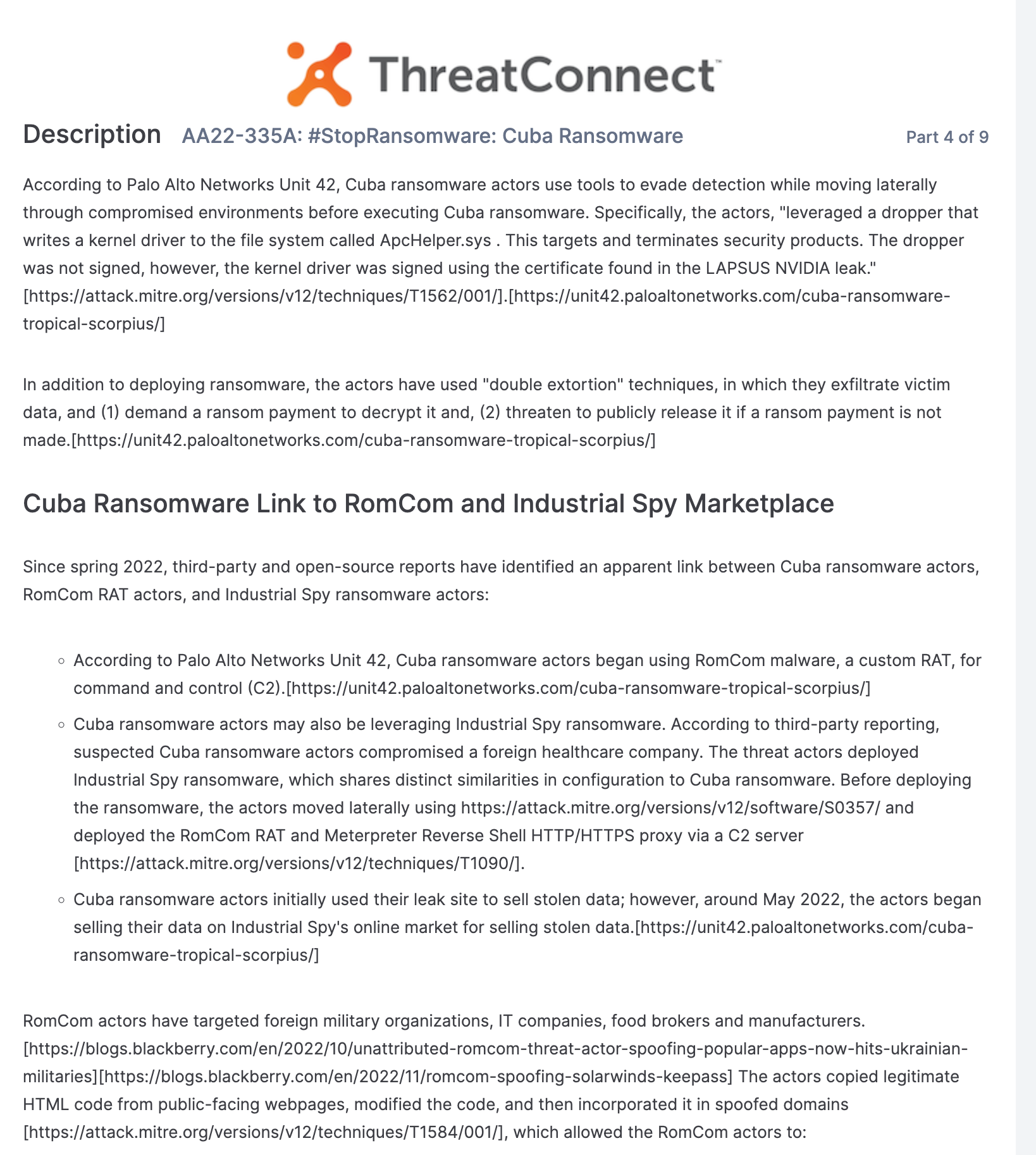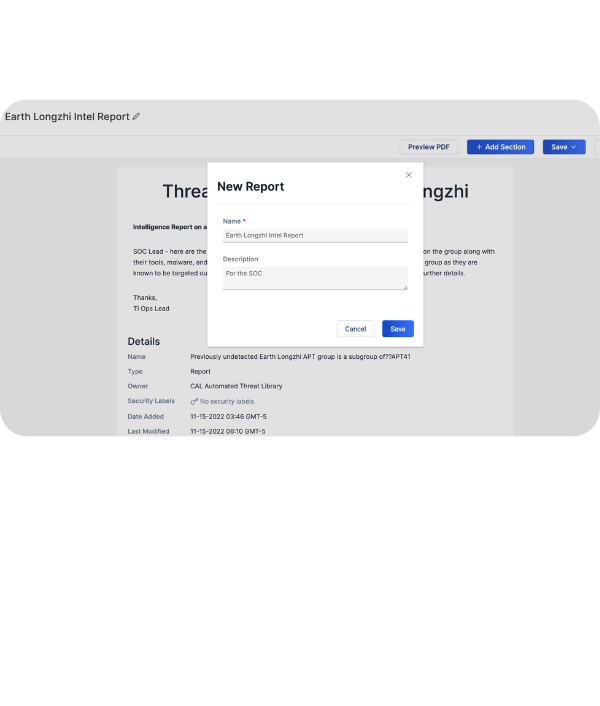 Interactive Experience
Take a tour of built-in Reporting in the ThreatConnect Platform and see for yourself how easy it is to use. This step-by-step guide will walk you through building a customized report using the native Report Editor.
Take the interactive tour
Save analyst time disseminating threat intelligence to the stakeholders so they can make timely decisions.