ThreatConnect has released a Playbook App for joint customers to leverage Freshservice. With this new Playbook App, you can easily manage or create tickets in Freshservice from ThreatConnect. Repeatable and mundane tasks like copy and pasting information from ThreatConnect to Freshservice or opening a Freshservice ticket can now be completely automated.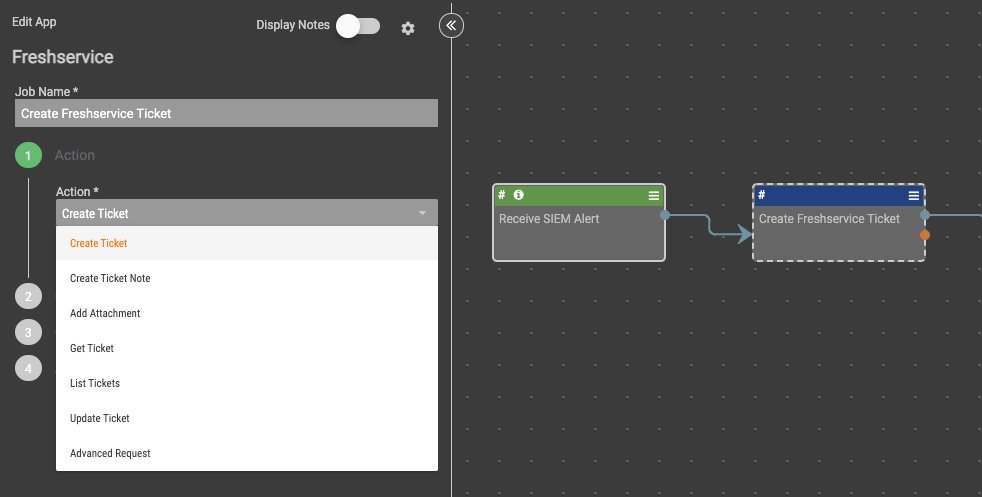 Freshservice Playbook App
Through this integration, the following capabilities are now available:
Managing Tickets

As part of a security investigation, it may be necessary to create, retrieve, or update an Incident ticket for another team to track work such as an infrastructure change request.  The Create Ticket action can be used to create a Ticket in Freshservice as well as link it back to a Case in ThreatConnect. 

Incident Investigation and Enrichment

As part of a security investigation, you may want to download recent tickets from Freshservice and continue the investigation in ThreatConnect using Workflow. Using Playbooks, you can enrich the investigation by updating the ticket in Freshservice with further context to help prioritize response efforts.  

Cross-Team Collaboration

As part of an investigation, you may need to work cross-functionally. You can automate these collaboration processes by creating Playbooks to do things like open a ticket for a firewall team to put in a block at the network, open a ticket to have a vulnerability team to patch a host, or many other similar security processes that require tickets and teamwork.

Intel Collection 

As part of a security process, you may want to bring a certain type of closed tickets into ThreatConnect to be stored as Intelligence. Your internal incidents are one of your best sources of intelligence, and collecting this intelligence is invaluable. Automate the collection of this intelligence by creating a Playbook to query an incident from Freshservice in ThreatConnect. This enables you to associate all correlated intelligence and provide it to your team at their fingertips. 
The following actions are available through this integration:
Add Attachment – Add a file attachment to a ticket or a ticket conversation.

Create Ticket – Create a new ticket in Freshservice.

Create Ticket Note – Creates a new note in a ticket's conversation.

Get Ticket – Retrieves a ticket from Freshservice.

List Tickets – Use filters to view only specific tickets (those which match the criteria that you choose). By default only tickets that have not been deleted or marked as spam will be returned, unless you use the 'deleted' filter.

Update Ticket – Updates an existing ticket.

Advanced Request – This action can be used to request additional API endpoints.
With our Playbook App for Freshservice, you can now more easily manage tickets and automate processes around ticket management.  If you're a ThreatConnect customer, please reach out to your dedicated Customer Success Team for more information on utilizing the Freshservice App. If you're not yet a customer and are interested in ThreatConnect and this integration, please contact us at sales@threatconnect.com.