I've got 99 problems, but keeping up with the news isn't one
Collecting is the sort of thing that creeps up on you. ~Paul Mellon
"Did you see that latest report on [ransomware, ShadowBrokers, insert topic du jour here]?" Keeping up with the latest research in the field is a key task for any infosec analyst, and it's daunting. There's so much coming out from different researchers and yes, vendors, that you could spend your entire work week doing nothing but reading other people's analysis.  
In the past, the ThreatConnect Research Team has devised clever ways to navigate the mountain of quality public threat intelligence reports – including RSS feeds, a Slack channel, Twitter, a roulette wheel – but felt like we could do better.  We really wanted:
An automated way for ThreatConnect to ingest all of those technical blogs we like to follow in a format that's easy to read (hello markdown!)

Properly parsed and associated indicators so those publications become part of our overall knowledge base and fodder for our sweet analytical enrichment techniques

Fewer clicks and open tabs

A foosball table in the office (this request was denied by management)
Keeping with our ethos of being "for analysts, by analysts", we built a system that does just that and started ingesting 55 blogs.  And it was good.  After we showcased our handiwork and its obvious utility to an analyst, leadership agreed to the foosball table let us share it with all of you.  
So grab your coffee (or Red Bull – we won't judge) and start your day in ThreatConnect by checking out what's new. Behold: the Technical Blogs and Reports Source!
What is the Technical Blogs and Reports Source?
The Technical Blogs and Reports source is a source that is open to all ThreatConnect users with access to the ThreatConnect Multi-tenant Cloud. As we mentioned, it is populated with the blog posts from 55 blogs (and counting) which have been chosen for their quality by us (the ThreatConnect Research Team).
Each new post is represented by an incident in the Technical Blogs and Reports source. The content of the blog post is converted to markdown and added as the incident's description.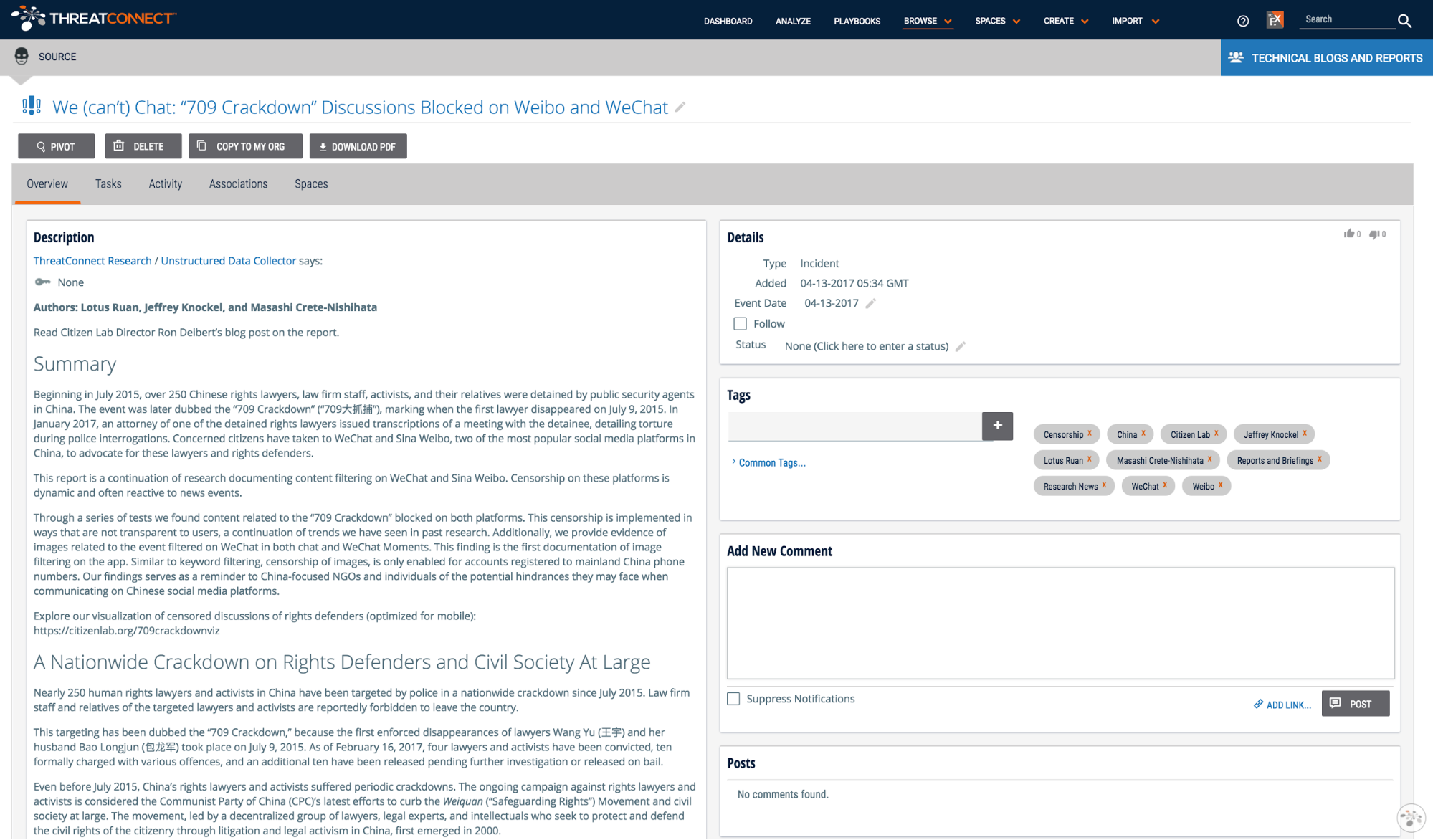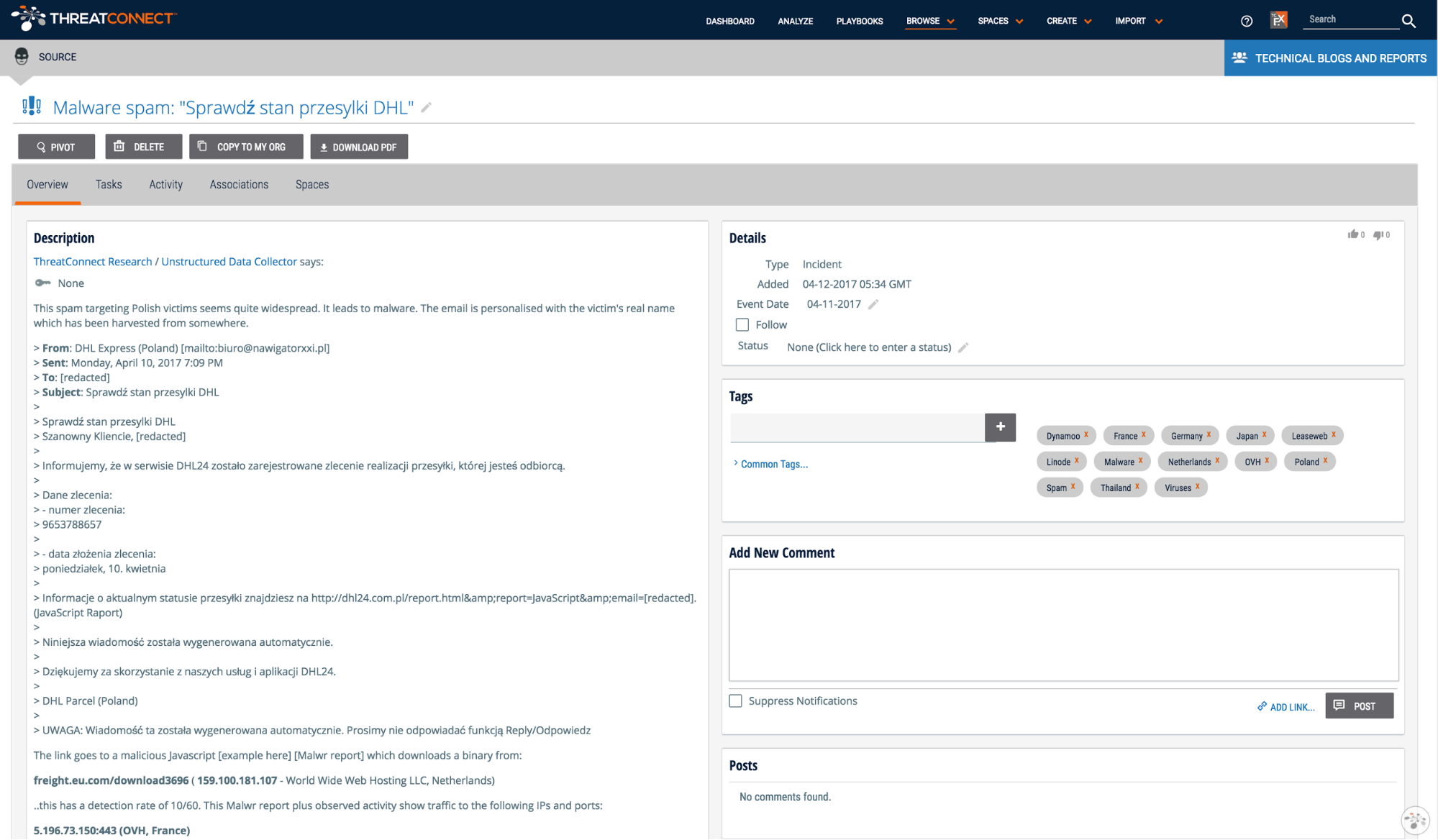 All of the indicators provided in the post are parsed out and associated with the incident saving you the work of finding the indicators. To explore this content in ThreatConnect, jump to the "How do I use it?" section at the end of this post.
Why Should I Care?
The Technical Blogs and Reports source allows incident responders, researchers, and analysts to stand on the shoulders of giants by having access to the work produced by other researchers and malware analysts. Whether you are an independent researcher or work for a Fortune 10 company, this source lets you be more effective and fight at a higher weight-class by bringing content from many, disparate locations into one place and 'translating' that content into a common data-model. You may not be an expert on the newest forms of Ransomware, but with the Technical Blogs and Reports source, it is easy to find pertinent information that can bring you up to speed.
In addition to having quality research curated in one place, the Technical Blogs and Reports source also provides more context and intelligence about specific indicators that you may run across in the course of an investigation or research effort. In ThreatConnect, if an indicator in one owner (a community, organization, or source) also exists in another owner to which you have access, an "Additional Owners" card like the one below will show you other places where the same indicator exists (you can see this in action here).
Say you are investigating a file that calls back to usawaterproofing[.]com. Creating usawaterproofing[.]com as a host indicator within your organization in ThreatConnect will show you that the same indicator exists in the Technical Blogs and Reports source which provides you some immediate context surrounding this indicator. The same principle applies when using the Analyze feature to find what ThreatConnect knows about given indicators. With an influx of new information coming into the Technical Blogs and Reports source, it is easier to find helpful context around indicators in ThreatConnect.
How Do I Use It?
The easiest way to find the most recent blog posts in the Technical Blogs and Reports source is to view all incidents in the source. In fact, with the updated browse screen released in ThreatConnect version 4.4, you can bookmark: https://app.threatconnect.com/auth/browse/index.xhtml?filters=typeName%20in%20(%22Incident%22)&intelType=groups&owners=10666 which will take you right to the list of the most recent incidents.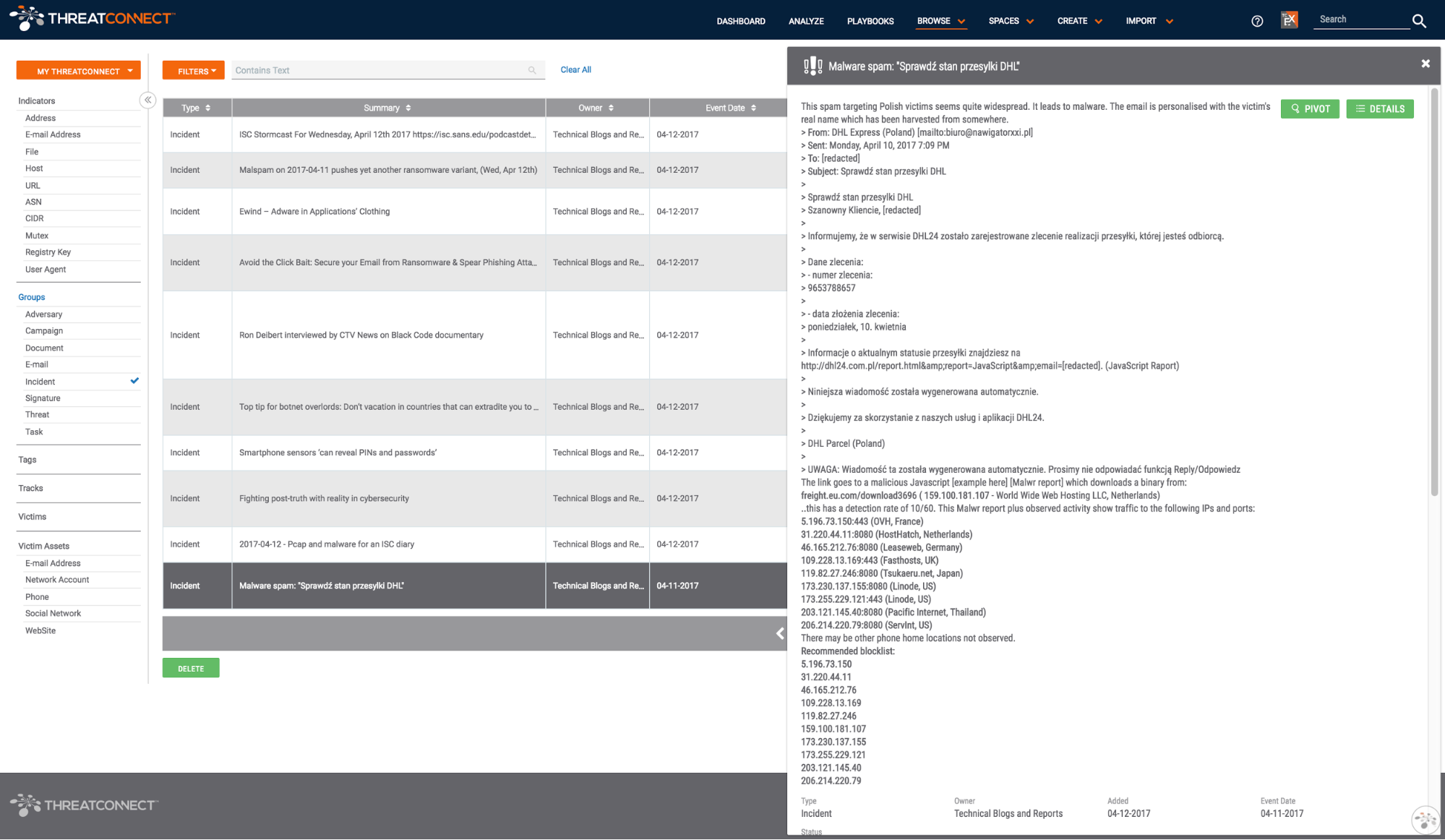 Technical Blogs and Reports Source Incident List
If you are interested in a particular subject (be it a malware family, APT group, TTP (Tactic, Technique, and Procedure), etc.), you can find related content by searching through the tags in the Technical Blogs and Reports source.
Lastly, you can simply search for a topic in ThreatConnect using the search feature in the upper right-hand corner. Oftentimes, this will turn up some blog posts in the Technical Blogs and Reports source which are related to the given topic.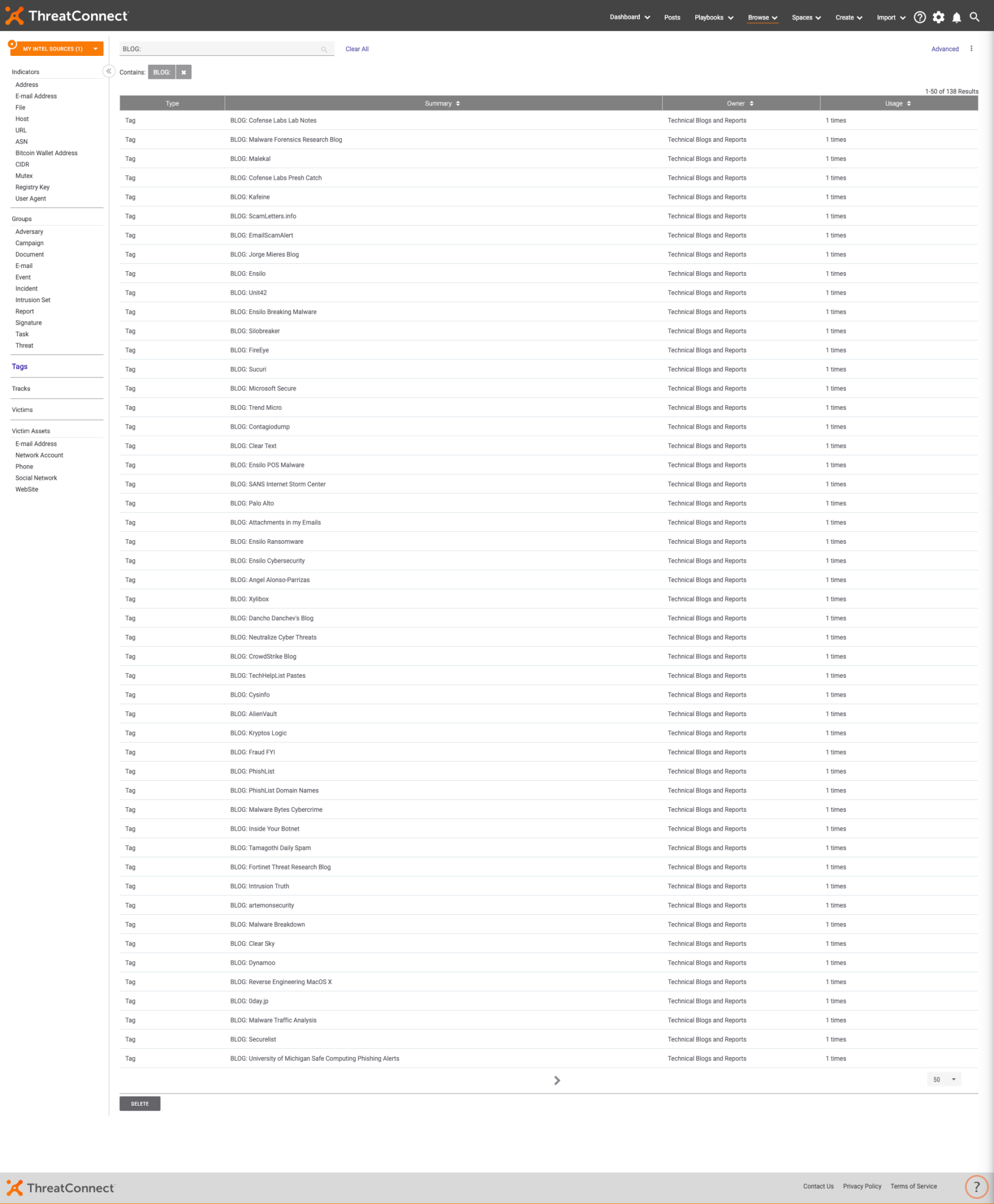 What Blogs are Being Pulled into the Source?
Below is a list of all of the sources from which content for this source is gathered. A few of the sources listed below have multiple blogs which we are pulling in. This list is subject to change as quality blogs come and go.
Cofense Labs Lab Notes
Malware Forensics Research Blog
Malekal
Cofense Labs Presh Catch
Kafeine
ScamLetters.info
EmailScamAlert
Jorge Mieres Blog
Ensilo
Unit42
Ensilo
Breaking Malware
Silobreaker
FireEye
Sucuri
Microsoft Secure
Trend Micro
Contagiodump
Clear Text
Ensilo POS Malware
SANS Internet Storm Center
Palo Alto
Attachments in my Emails
Ensilo Ransomware
Ensilo Cybersecurity
Angel Alonso-Parrizas
Xylibox
Dancho Danchev's Blog
Neutralize Cyber Threats
CrowdStrike Blog
TechHelpList Pastes
Cysinfo
AlienVault
Kryptos Logic
Fraud FYI
PhishList
PhishList Domain Names
Malware Bytes Cybercrime
Inside Your Botnet
Tamagothi Daily Spam
Fortinet Threat Research Blog
Intrusion Truth
artemonsecurity
Malware Breakdown
Clear Sky
Dynamoo
Reverse Engineering MacOS X
0day.jp
Malware Traffic Analysis
Securelist
University of Michigan Safe Computing Phishing Alerts
Sketchymoose
VMRay
Krebs on Security
Remove Trojans
Kleissner
University of Chicago Latest Email Scams
Citizen Lab
BroadAnalysis
Talos
Recorded Future Analysis Blog
Brown University Phish Bowl
Online Threat Alerts
THREATgeek
Yoroi Blog
Breaking Malware
ESET We Live Security
TechHelpList Spam
Heimdal Security
US-CERT Alerts
BAE Systems Threat Research Blog
Hazmalware
Vitali Kremez
Biebs the malware guy
Precisionsec
ThreatTrack
Blaze's Security Blog
Bitdefender Labs
Malwageddon
Maltiverse Blog
PhishList Email Scams
Cyphort
R3MRUM
360 Netlab Blog
US-CERT Analysis Reports
Pcap Analysis
Security 0wnage
Dragon Threat Labs
The Ransomware Blog
Beware of Email Scams
Google Security Blog
VirIT
Johannes Bader's Blog
Brendinghat
PhishList Phone Numbers
VIPRE Labs Blog
Cryptolaemus Pastedump
ReversingLabs
Cofense
Cert Polska
Zerophage Malware
Malware Reversing
TruShield
Malware Tracker
Cybereason
Misterch0c's Blog
ReaQta Blog
Objective-See
Bad Packets Report
DeepEnd Research
DocuSign Alerts
GovCERT.ch
Malware Party
Check Point Research
Fox IT
SlashNext
Nioguard
SlashNext Malware
SlashNext Phishing
Volexity
Malware Bytes
Contagio Mobile
Team Cymru
HYAS
malware@prevenity
Cisco Umbrella
Zscaler
PhishMe
ID Ransomware
My Online Security
Scam Reports
Ropchain
Arbor Threat Intelligence
US-CERT
Contagio Exchange
RiskIQ
Proof Point
CrySyS
Malware Bytes Threat Analysis
Have a blog that you'd like to have pulled into the Technical Blogs and Reports Source? Tweet a link to the blog to @ThreatConnect with #TCTechblogs.
[av_hr class='default' height='50' shadow='no-shadow' position='center' custom_border='av-border-thin' custom_width='50px' custom_border_color=" custom_margin_top='30px' custom_margin_bottom='30px' icon_select='yes' custom_icon_color=" icon='ue808′ av_uid='av-1n5ylm4′]